MANURE SPREADER Orchard type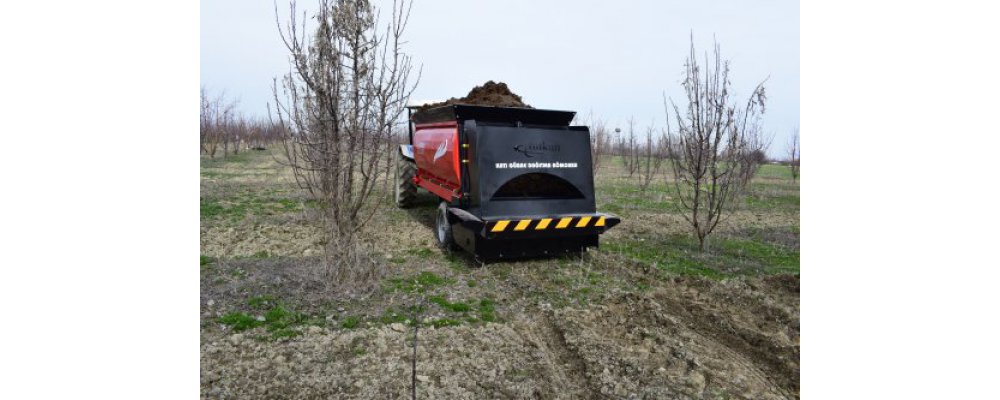 FEATURES
TUTKUN Manure Spreader loads manure, and provides a uniform way of spreading it on the fields.
When the machine is loaded, the specially designed suspension system on the chassis, prevents the tractor from the oscillations that will occur, and in this way it provides a more comfortable driving experience.
Specially designed vertically positioned beaters, with the blade attached to them, provide a homogeneous spreading of the muck on the field.
Also, the specially designed transmission system that allows the transfer, is designed to work without any problems and can also withstand high power capacity for many years.
TECHNICAL SPECIFICATIONS
| | | | | |
| --- | --- | --- | --- | --- |
| Model | KGD-3 | KGD-4 | KGD-5 | KGD-6 |
| Length | 500 cm | 500 cm | 500 cm | 500 cm |
| Width | 200 cm | 200 cm | 200 cm | 200 cm |
| Height | 175 cm | 190 cm | 212 cm | 220 cm |
| Weight | 2100 kg | 2200 kg | 2350 kg | 2500 kg |
| Conveyor | Hydraulic | Hydraulic | Hydraulic | Hydraulic |
| Capacity (m³) | 3 m³ | 4 m³ | 5 m³ | 6 m³ |
| Capacity (kg) | 3500 kg | 5000 kg | 6000 kg | 7000 kg |
| Conveyor cover | Hydraulic | Hydraulic | Hydraulic | Hydraulic |
| Beaters movement | PTO | PTO | PTO | PTO |
| Beaters transmission number | 3 | 3 | 3 | 3 |
| Conveyor transmission number | 1 | 1 | 1 | 1 |
| Number of beaters | 2 | 2 | 2 | 2 |
| Conveyor type | 13 mm galvanized chain | 13 mm galvanized chain | 13 mm galvanized chain | 13 mm galvanized chain |
| Axle type | Single axle | Single axle | Single axle | Single axle |
| Tyres size | 10.0/75-15.3 | 10.0/75-15.3 | 340/55-16 | 340/55-16 |
| Minimum power requirement for PTO (hp) | 40 HP | 40 HP | 60 HP | 60 HP |
| PTO Drive (rpm) | 540 | 540 | 540 | 540 |
| Manure spreading width | 15 m | 15 m | 15 m | 15 m |
PRODUCT IMAGES